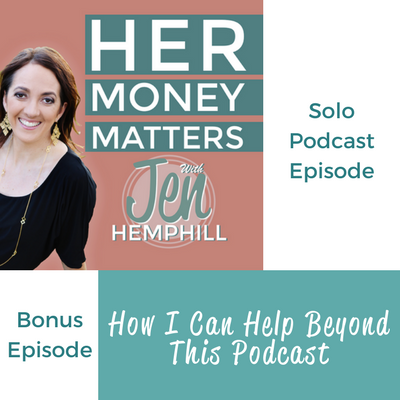 Recently it came to my attention that you may not know the different ways I can help you, especially if you only listen to the podcast.
If you are sick and tired of not moving the needle when it comes to your money and are looking for guidance this episode will help.
In this short episode we explore the different ways you can have access to me.
This way you can see what makes most sense for you and your situation!
Listen to the Episode Below
Resources From This Episode:
The Her Money Matters podcast (wait, you are already here!)
CLICK HERE to join the Her Money Matters community
You can join our community (and receive our weekly newsletters) by grabbing The Daily Dinero Ritual!
CLICK HERE to learn more about the Fearless Money Sisterhood monthly membership program
Need me to look at your money situation more intimately?  Let's see about working together.  CLICK HERE to schedule a complimentary consultation.
Let's be real did you know the different ways of working with me?
Abrazos (**hugs**),
Jen
P.S. THANK YOU for listening!
Enjoy The Show?
Be sure to never miss an episode:
Share with a friend by using the social media icons below.
Send us feedback via email to support@jenhemphill.com or click here to leave a voicemail.
**Please note I love to give shout outs to my listeners, so if you'd rather me not mention your email message or play your voicemail on the show be sure to clearly state that, thank you!**