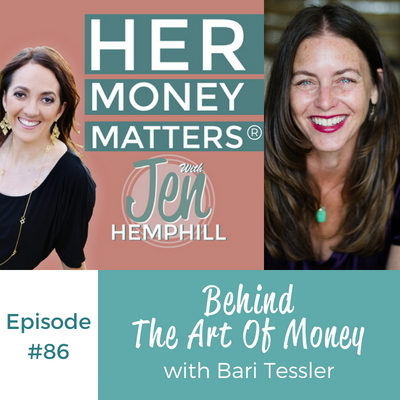 This week Financial Therapist and author Bari Tessler joins us for a soulful chat about money.  
She shares many lessons she learned regarding money over the years, including the story of the time she was studying in Europe, ran out of money and her parents didn't send her any for a month!
Listen to the Episode Below
What You'll Learn In Today's Episode:
The generosity and missing gaps she experienced in her money journey
Her therapy background and why money became a part of the picture and mission
What purpose talking about their visions as a couple serves on their money dates
Growing up, Bari received little education at home on handling her money.  Her parents were extremely generous, and gave her experiences that they themselves hadn't had when they were young.
Determined to follow her own path, Bari chose to pursue her dreams and at age 22, went to Israel, where she found herself and the path that she was meant to follow.  There she discovered her passion for therapy and movement, and began helping women deal with a variety of issues such as bereavement, mental health, sexuality and sensuality.
When the student loan came due, she realized she had not received any education on how to handle managing it.  She realized that she wasn't alone, and began educating herself on everything about money management, the language on money, bookkeeping systems and accounting.
In fact, she ran a bookkeeping business for a few years for therapists, coaches, artists and contractors. In doing this work, she learned so much about people patterns and psychology through their numbers.   She then decided to combine her training in psychotherapy with all the financial tools and practices that she was passionate about, and began specializing in money therapy.
For Bari, it is extremely important that her work be playful, have a deeper meaning and be creative.    She has created a methodology that integrates therapy and the practical aspects of parts that addresses money healing, money practices and money maps. It has now become a year-long program rich in content.
Bari's book, The Art of Money, A Life Changing Guide to Financial Happiness, takes you through the same methodology she uses in story-telling form.  It is filled with stories of her own journey, and the stories of the community that she has been teaching for years.  
Bari shares how she and her husband have money dates where they share not only the numbers, but most importantly, their visions and goals for the future, which she recommends to everyone.  
Her Money Matters because… 

this is a really important garden of life, just like our health and taking care of our bodies and intimacy and relationship, and if it is not tended to, it is going to bite us in the butt!  Bari Tessler
Resources From This Episode:
Learn more about Bari here:  www.baritessler.com
Purchase her book here:  The Art Of Money: A life Changing Guide to Financial Happiness **
**Please note the link is an  affiliate link so I may receive a small commission if you purchase**
Need some guidance and direction on what steps you can take?  Here is the survey I mentioned at the beginning of the episode:  www.jenhemphill.com/ready
I want to hear from you!  What was your favorite takeaway from this episode? Please share in the comments below or come on over to our community and share with us there.
You can join our community (and receive our weekly newsletters) by grabbing The Daily Dinero Ritual!
Abrazos + Much Love,
Jen
P.S. THANK YOU for listening!
Enjoy The Show?
Be sure to never miss an episode:
Share with a friend by using the social media icons below.
Send us feedback via email to support@jenhemphill.com or click here to leave a voicemail.
**Please note I love to give shout outs to my listeners, so if you'd rather me not mention your email message or play your voicemail on the show be sure to clearly state that, thank you!**