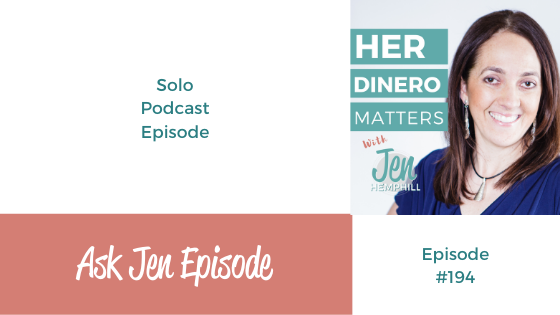 Imagine always paying your bills on time and life strikes where your health takes a toll which makes you miss a payment on your student loan which makes an impact on your credit score. What do you do?
I answer this question in detail in this special Ask Jen Episode.
Listen to the Episode Below
Resources From This Episode:
Nominate a mujer (woman) for Reina of the Week here: www.jenhemphill.com/reinaoftheweek
☕️☕️☕️☕️☕️☕️☕️☕️☕️☕️☕️☕️☕️☕️☕️☕️☕️☕️☕️☕️☕️
I want to hear from you! What was your favorite takeaway from this episode? Please come on over to our community and share with us there.
Abrazos + Much Love,
Jen
P.S. ¡GRACIAS por escuchar! THANKS for listening!
Enjoy The Show?
Be sure to never miss an episode:
Share with a friend by using the social media icons below.
Send us feedback via email to support@jenhemphill.com or click here to leave a voicemail.
The post, Ask Jen Episode | HDM 194 appeared first on the Her Dinero Matters Podcast