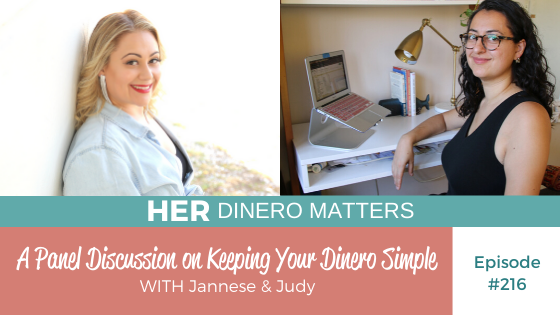 Keeping your dinero simple.
Is this even possible?
In this episode, you will get different perspectives on how Jannese Torres-Rodriguez and Judy Esber have changed their financial life for the better.
We discuss what their finances looked like before the changes, what the turning point in their life was, and how different their finances look now!
These mujeres share some valuable tips for keeping your dinero simple which you don't want to miss!
A little bit about our panelists for this episode:
🙋🏻‍♀️ Jannese Torres-Rodriguez is the creator and CEO of DelishDlites, a food blog that specializes in Latin inspired recipes. She is a self-taught cook, web designer, photographer, writer and blogger, and a first-generation Latina with a graduate degree. While working her way up the corporate ladder, she's also become an expert on topics like running a successful small business online, investing with a purpose, and generating sustainable, generational wealth. Now, she's sharing her entrepreneurial and financial knowledge through a podcast called Yo Quiero Dinero. She is passionate about educating women, and especially Latinas, about the powerful ways that money can be used to manifest the life of your dreams, build a multi-generational legacy, and secure financial freedom and independence.
🙋🏻‍♀️ Judy Esber from Hear Me Finance is a money coach who helps women and couples become financially free. After paying off $11,000 in credit card debt and $20,000 in other debt she decided that she wanted to make sure others didn't have to do it alone like she did. She helps women go from broke to financially confident and use their money as a tool to create the life of their dreams.
Listen to the Episode Below
Quick tidbits from today's episode:
What their financial life looked like before making these changes

The change they made and how it transformed their lives

Their recommendations on the one simple change you can make right now
Resources From This Episode:
Check out Jannese's podcast: YoQuieroDineroPodcast.com
Connect with Judy: HearMeFinance.com
Grab a slot for Jen's Office Hours here: jenhemphill.com/officehours
Nominate a mujer (woman) for Reina of the Week here: www.jenhemphill.com/reinaoftheweek
You can join our community (and receive our weekly newsletters) by grabbing The Daily Dinero Ritual!
☕️☕️☕️☕️☕️☕️☕️☕️☕️☕️☕️☕️☕️☕️☕️☕️☕️☕️☕️☕️☕️
I want to hear from you!  What was your favorite takeaway from this episode? Come on over to @HerDineroMatters on Instagram and share it with us there.
Abrazos + Much Love,
Jen
P.S. ¡GRACIAS por escuchar! THANKS for listening!
Enjoy the Show?
Be sure to never miss an episode by hitting the subscribe or follow button on your favorite podcast app! Get instant notifications of the latest episodes now!
Be sure to share with a friend (or two), you never know what someone is going through in their financial life. Here is a tweet you can share now:
Have Feedback?
Send us feedback via email to support@jenhemphill.com or click here to leave a voicemail.
The post, A Panel Discussion on Keeping Your Dinero Simple | HDM 216 appeared first on the Her Dinero Matters Podcast