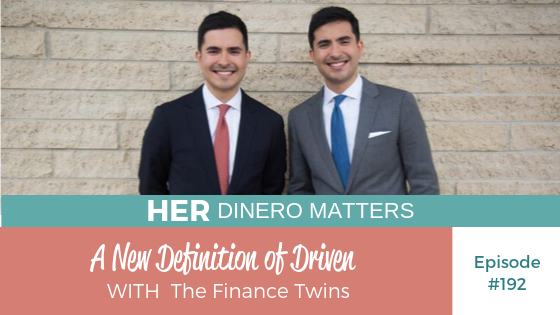 The Finance Twins (Camilo and Francisco) had a good life until their life got turned upside down. They lost their dad at 7 years of age and their mom had to raise three boys on her own.
Despite enduring financial hardship The Finance Twins preserved and had an uncanny drive that got them to Harvard, Mayo Clinic and so much more.
Be sure to tune in to this episode to hear their inspiring story and how they made me tear up.
Listen to the Episode Below
What you'll learn about in today's episode:
The lessons they learned after losing their father at 7 years of age and witnessing their mom's credit card getting declined

Why they would wake up at 3:30 am before school as kids

What happened as a result of getting credit cards once they turned 18 years of age
Pregunta of the Week:
🤔 Why did Camilo and Francisco decide to take out credit cards at 18 years of age? 🤔
Use your free account in the Her Dinero Matters Hub to submit your answer and be one step closer to this month's freebie!
Have your free account? Click here to get taken directly to this week's question.
Don't have a free account, yet? No worries click here to get started (and submit your answer).
Resources From This Episode:
You can join our community (and receive our weekly newsletters) by grabbing The Daily Dinero Ritual!
Nominate a mujer (woman) for Reina of the Week here: www.jenhemphill.com/reinaoftheweek
☕️☕️☕️☕️☕️☕️☕️☕️☕️☕️☕️☕️☕️☕️☕️☕️☕️☕️☕️☕️☕️
I want to hear from you!  What was your favorite takeaway from this episode? Come on over to @HerDineroMatters on Instagram and share it with us there.
Abrazos + Much Love,
Jen
P.S. ¡GRACIAS por escuchar! THANKS for listening!
Enjoy The Show?
Be sure to never miss an episode:
Share with a friend by using the social media icons below.
Send us feedback via email to support@jenhemphill.com or click here to leave a voicemail.
The post, A New Definition of Driven with The Finance Twins | HDM 192 appeared first on the Her Dinero Matters Podcast