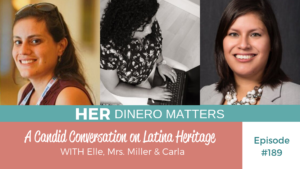 This episode was recorded LIVE at #FinCon19 thanks to the support of NEFE.org
We have a new Reina Crew this month and we have a candid discussion on Hispanic Heritage Month, don't miss it!
A little bit about our panelists for this episode:
🙋🏻‍♀️ Elle Martinez is the creator and award-winning blogger of Couple Money, a personal finance site and podcast dedicated to helping spouses get on the same page, pay off their debts faster, and build wealth together!
🙋🏻‍♀️ Mrs. Miller blogs over at Millers on Fire were she shares simple investment strategies, money-saving tips, helps improve budgeting skills and shares travel hacking tactics as she shares her and her husband's journey to reach financial independence.
🙋🏻‍♀️ Carla Titus works with business owners on their financial goals and provides a comprehensive approach by tackling their personal finances and money mindset. She helps break-through what is holding business owners back from achieving their fullest business potential.
Listen to the Episode Below
What you'll learn about in today's episode:
Write out four or five bullet points that are…
Exciting, interesting, intriguing,
And leave people interested in the
Content that you're sharing in your podcast episode
Pregunta of the Week:
No pregunta of the week for this episode. However, it is a good a time as any if you need to get caught up.
Use your free account in the Her Dinero Matters Hub to submit your answers so you can grab the amazing freebies we have available for you!
Have your free account? Click here to log in.
Don't have a free account, yet? No worries click here to get started (and submit your answer).
Resources From This Episode:
Nominate a mujer (woman) for Reina of the Week here: www.jenhemphill.com/reinaoftheweek
☕️☕️☕️☕️☕️☕️☕️☕️☕️☕️☕️☕️☕️☕️☕️☕️☕️☕️☕️☕️☕️
I want to hear from you!  What was your favorite takeaway from this episode? Please come on over to our community and share with us there.
Abrazos + Much Love,
Jen
P.S. ¡GRACIAS por escuchar! THANKS for listening!
Enjoy The Show?
Be sure to never miss an episode:
Share with a friend by using the social media icons below.
Send us feedback via email to support@jenhemphill.com or click here to leave a voicemail.
The post, A Candid Conversation on Latina Heritage | HDM 189 appeared first on the Her Dinero Matters Podcast