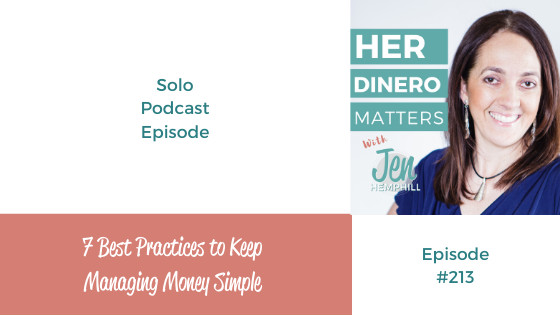 Can managing money ever be simple?
Money can be overwhelming, frustrating and sometimes we don't want to deal with it.
The reality is what we are feeling is…just that—what we are feeling. We need to be able to set those feelings aside long enough so we can get to work and make a difference in that bank account.
In this episode, I share my 7 best practices to keep managing money simple.
Incorporating these practices will help you look at money differently and shift your perspective from money being complicated to money being more simple. The more simple we can make our money the more consistent we will be and the more consistent we are the more success we will have in our financial life.
What exactly are these 7 best practices? Listen to the episode to find out!
P.S. In bullet points further down I may or may not have sprinkled some hints as to what they are 🤷🏻‍♀️.
Listen to the Episode Below
What you'll learn about in today's episode:
How money confidence plays are role in keeping things simple

How to incorporate financial roles, tools, and goals in a way that doesn't bring overwhelm

What is important in creating a plan, how to put it into action and money check-ins to see your progress
Resources From This Episode:
Help me create a super valuable experience for you! Provide your input here: jenhemphill.com/cocreate
Amazing podcasts that help simplify your financial life:
Nominate a mujer (woman) for Reina of the Week here: www.jenhemphill.com/reinaoftheweek
☕️☕️☕️☕️☕️☕️☕️☕️☕️☕️☕️☕️☕️☕️☕️☕️☕️☕️☕️☕️☕️
I want to hear from you!  What was your favorite takeaway from this episode? Come on over to @HerDineroMatters on Instagram and share it with us there.
Abrazos + Much Love,
Jen
P.S. ¡GRACIAS por escuchar! THANKS for listening!
Enjoy the Show?
Be sure to never miss an episode by hitting the subscribe or follow button on your favorite podcast app! Get instant notifications of the latest episodes now!
Be sure to share with a friend (or two), you never know what someone is going through in their financial life. Here is a tweet you can share now:
Have Feedback?
Send us feedback via email to support@jenhemphill.com or click here to leave a voicemail.
The post, 7 Best Practices to Keep Managing Money Simple | HDM 213 appeared first on the Her Dinero Matters Podcast