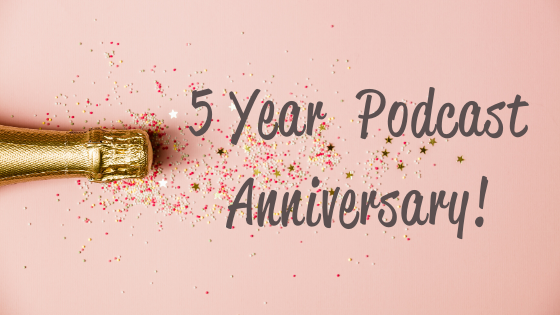 It is crazy to think that 5 years ago I started this podcasting journey.
This adventure has had a lot of twists, tears, pivots, unexpected opportunities, AND the most treasured by ME is being able to connect with YOU.
In some way, you found this podcast and I have made it to your listening ears- for this I am GRATEFUL.
Let's get real, if you weren't a listener this podcast wouldn't exist which is why I want to celebrate with you.
I've got a lot in the works just for you- take a look below!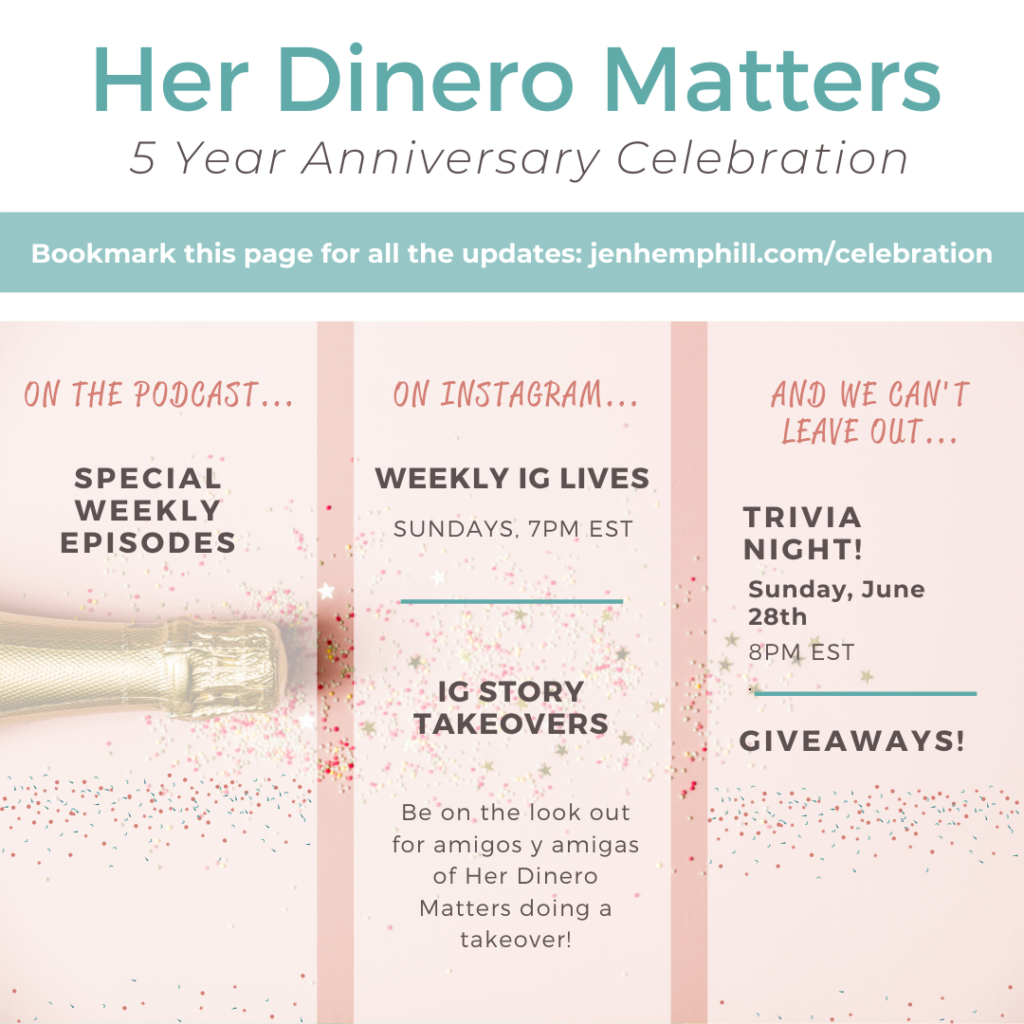 ---
Make sure you bookmark this page you are currently reading as the links to the episodes will be posted all here. Here is a easy link: jenhemphill.com/celebration
---
Special Weekly Episo

des
This is not your normal episodes, we aren't really talking a ton about money. Instead, we are going back in time to the beginning of the podcast, you will hear behind the scenes, get to know mi familia, celebrating your wins and aha moments AND we will be catching up with past guests!
👇🏼 👇🏼👇🏼👇🏼👇🏼👇🏼👇🏼👇🏼👇🏼👇🏼👇🏼👇🏼👇🏼👇🏼👇🏼👇🏼👇🏼👇🏼👇🏼👇🏼👇🏼👇🏼👇🏼👇🏼👇🏼
---
Weekly Instagram Lives
Every Sunday at 7pm EST/ 4pm PST I will be going live. It may be just me, it may be me and a past guest or may you will hop on the live with me? I will surprise you, cool? 👈🏼**That is code for me saying, I'm still working this out.** 🤷🏻‍♀️
Instagram Stories Takeovers
Our amigos y amigas some past guest, others just supporters of this podcast will be taking over IG stories so you will get to meet them. I know you will love them just like I do!!
Her Dinero Matters Trivia Night!
Mark those calendars! Go ahead and get registered for the Her Dinero Matters Trivia Night happening Sunday, June 28th at 8pm EST/5pm PST here: jenhemphill.com/trivia
It's free, it's going to be a lot of fun and did I mention giveaways? Get registered below 👇🏼 (spots are limited).
---
---
THIS IS HOW TRIVIA NIGHT IS GOING TO WORK:
#1: After you register you will receive an email with a Zoom link.
#2: You will need to download the Kahoot app on your phone.
#3: Mark the event on the calendar and get ready to have some fun!
NOTE: The trivia answers will be sprinkled all throughout the month in the podcast episodes and over on Instagram so if you are paying attention you will be set!
---
Remember to come back for updates! Here you will find the weekly episodes once they are live.