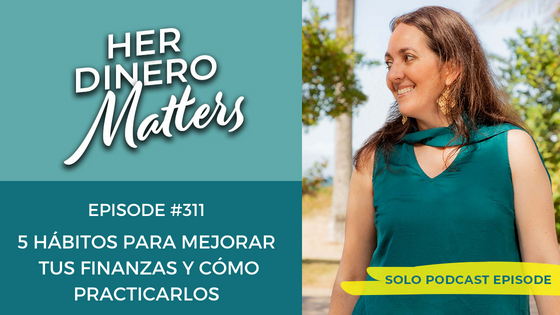 ¿Cómo te sientes hoy con respecto a tus finanzas? En muchas ocasiones nos desanimamos por la situación actual por la que estamos atravesando, pero es importante estar conscientes que todo es un proceso y que, si incluimos ciertos hábitos a nuestra rutina diaria, muchas cosas pueden cambiar y mejorar. Es por ello, que en este episodio completamente en español, quiero compartirte 5 hábitos para mejorar tus finanzas, su importancia y cómo practicarlos, para así puedas manejar tu dinero de forma más sencilla.  (Este episodio es 100% en español)
Lo que aprenderás en el episodio de hoy:
Un hábito que no puedes ignorar y que tiene que ver con tu pareja

Dos hábitos directamente relacionados con tus finanzas diarias

Algunos hábitos para proteger tu salud mental (y tu dinero)
Listen to the Episode Below
¿Quieres escuchar ciertas partes del episodio?
Dale clic a la marca de minutos abajo y te llevará a la parte exacta que quieres escuchar.  🙌🏽
↳5 hábitos para mejorar tus finanzas. [1:20]
↳Hábito #1: Conversaciones regulares con tu pareja y las personas que forman tu hogar. [2:07]
↳Hábito #2:  Revisar tus finanzas. [12:39]
↳Hábito #3: Chequear esos pensamientos que entran en tu mente. [18:16]
↳Hábito #4: Seguimiento de tu progreso. [22:56]
↳Hábito #5: Celebrarte y amarte a ti mismo. [25:18]
Resources From This Episode:
Click here to watch this episode on YouTube!
If you are interested in learning about a specific money – topic, let us know by filling out this form!
Grab your copy of my  Daily Dinero Ritual and increase your money confidence (it's free). You can join our community (and receive our weekly newsletters) just by grabbing it.
Follow us on your favorite podcast player and review! If you listen on Apple Podcast you can review THERE. If not you can go HERE to review on Podchaser! THANK YOU! 😉
☕️☕️☕️☕️☕️☕️☕️☕️☕️☕️☕️☕️☕️☕️☕️☕️☕️☕️☕️☕️☕️
I want to hear from you!  What was your favorite takeaway from this episode? Come on over to @Jenhemphill on Instagram and share it with us there.
Abrazos + Much Love,
Jen
P.S. ¡GRACIAS por escuchar! THANKS for listening!
Enjoy the Show?
Be sure to never miss an episode by hitting the subscribe or follow button on your favorite podcast app! Get instant notifications of the latest episodes now!
Be sure to share with a friend (or two)! You never know what someone is going through in their financial life. Here is a tweet you can share now:
Have Feedback?
Send us feedback via email to support@jenhemphill.com or click here to leave a voicemail.
The post, 5 Hábitos Para Mejorar Tus Finanzas Y Cómo Practicarlos | HDM 311 appeared first on the Her Dinero Matters Podcast.