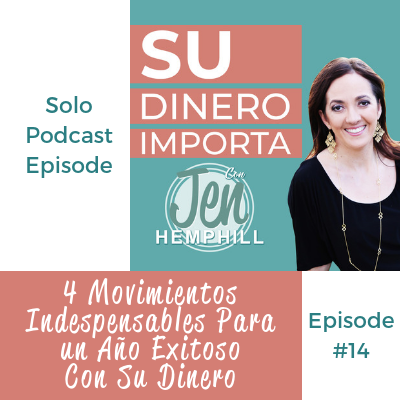 Es esa época del año para propósitos para el año nuevo. Si está aquí, mejorar su situación financiera es probablemente parte de ese propósito.
Si esto es así, haz que tu año comience con fuerza con aprender estos 4 movimientos indispensables. En aprenderlos vas a poder tener un año exitoso.
Spanish Barometer de este episodio: 95%
---
It is that time of year for resolutions for the new year. If you are here, improving your financial situation is probably a part of that.
If this is the case, let your year begin strongly with learning these 4 indispensable moves. In learning them you will be able to have a successful year.
Spanish Barometer for this episode: 95%
Si tienes prisa pase sobre la marca de tiempo entre corchetes y haz un clic, de hay la llevará directamente a ese lugar en el episodio!
(If you are in a hurry hover over the time stamp in the brackets and click, it will take you straight to that spot in the episode!)
Lo que aprenderas en episodio de hoy (What you'll learn about in today's episode):
Movimiento Indispensable #1 [2:58]
Movimiento Indispensable #2 [8:40]
Movimiento Indispensable #3 [14:34]
Movimiento Indispensable #4 [19:06]
Oportunidad gratis para aprender más [22:17]
Recursos De Este Episodio (Resources From This Episode):
Inscribase para el webinar que es gratis aquí (Register for the free webinar here): jenhemphill.com/slamdunk
Abrazos + Much Love,
Jen
P.S. ¡GRACIAS por escuchar! THANKS for listening!
The post, 4 Movimientos Indispensables Para Un Año Exitoso Con Su Dinero | SDI 14 appeared appeared first on the Su Dinero Importa Podcast