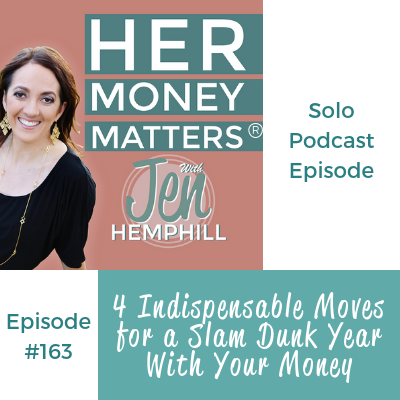 When it comes to our life knowing the indispensable moves is crucial so we don't waste any time. Being that you are here there is no doubt you want to have a slam dunk year with your money.
In this episode I want to help you get started off strong by sharing these 4 indispensable moves and go beyond the traditional new year's resolutions we make about money.
Plus, there is a very important announcement and an opportunity to dive deeper with this content which you don't want to miss.
Listen to the Episode Below
If you are in a hurry hover over the time stamp in the brackets and click, it will take you straight to that spot in the episode!
Indispensable Move #1 [3:40]
Indispensable Move #2 [9:33]
Indispensable Move #3 [15:45]
Indispensable Move #4 [18:27]
Free opportunity to dive deeper [21:14]
Very important announcement about a significant change with the podcast [22:03]
Resources From This Episode:
Register for the free webinar here: jenhemphill.com/slamdunk
I want to hear from you!  What was your favorite takeaway from this episode? Please come on over to our community and share with us there.
You can join our community (and receive our weekly newsletters) by grabbing The Daily Dinero Ritual!
Abrazos + Much Love,
Jen
P.S. THANK YOU for listening!
Enjoy The Show?
Be sure to never miss an episode:
Share with a friend by using the social media icons below.
Send us feedback via email to support@jenhemphill.com or click here to leave a voicemail.
**Please note I love to give shout-outs to my listeners, so if you'd rather me not mention your email message or play your voicemail on the show be sure to clearly state that, thank you!**
The post, 4 Indispensable Moves for a Slam Dunk Year With Your Money | HMM 163 appeared first on the Her Money Matters Podcast.