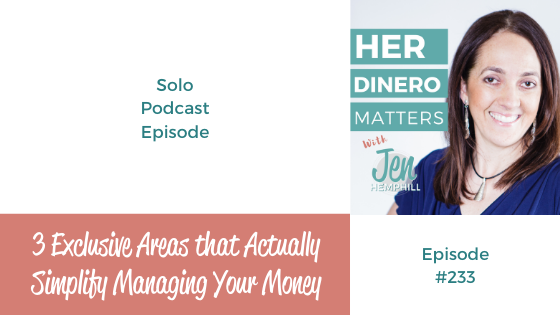 Do you consider money hard to manage, or maybe the thought of it is overwhelming? No matter what you have tried, don't miss this episode because I share with you three exclusive areas that actually simplify managing your money. (And they aren't hard to implement!)
If you apply what you learn in this episode, I know it will make your financial life easier. Don't forget to grab your Daily Dinero Ritual. Using it will help you feel better, and your bank account will thank you, too.
Listen to the Episode Below
What you'll learn about in today's episode:
The 3 main areas you need to pay attention to

One perspective to change right now

What your current season in life has to do with your money

The one mistake most people make when organizing their finances
Resources From This Episode:
Want to feel more confident and calm with your money, Reina? Grab your FREE copy of the Daily Dinero Ritual here: www.jenhemphill.com/dinero
Nominate a mujer (woman) for Reina of the Week here: www.jenhemphill.com/reinaoftheweek
☕️☕️☕️☕️☕️☕️☕️☕️☕️☕️☕️☕️☕️☕️☕️☕️☕️☕️☕️☕️☕️
I want to hear from you!  What was your favorite takeaway from this episode? Come on over to @HerDineroMatters on Instagram and share it with us there.
Abrazos + Much Love,
Jen
P.S. ¡GRACIAS por escuchar! THANKS for listening!
Enjoy the Show?
Be sure to never miss an episode by hitting the subscribe or follow button on your favorite podcast app! Get instant notifications of the latest episodes now!
Be sure to share with a friend (or two)! You never know what someone is going through in their financial life. Here is a tweet you can share now:
Have Feedback?
Send us feedback via email to support@jenhemphill.com or click here to leave a voicemail.
The post, 3 Exclusive Areas that Actually Simplify Managing Your Money | HDM 233, appeared first on the Her Dinero Matters Podcast.