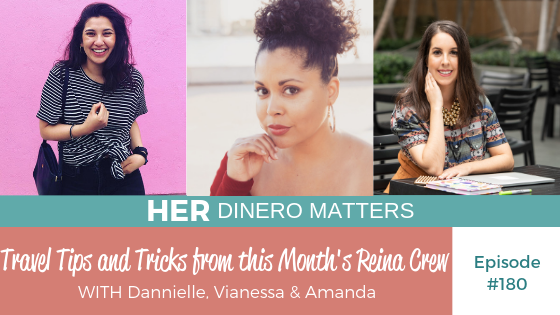 Who doesn't want to learn travel tips and tricks?
We are continuing the conversation of travel with this month's Reina Crew where we discuss travel tips and tricks. There is so much to learn in this one!
A little bit about our panelists for this episode:
🙋🏻‍♀️ Dannielle Romoleroux is a young professional in the NYC metro area pursuing financial independence. Her life mission is to educate and inspire other first-generation Americans and college graduates on financial literacy in an effort to create generational wealth.
🙋🏻‍♀️ Vianessa Castaños is an actor, producer and freelance travel & culture writer. She founded Hustle Juice in 2017 as a free resource for digital nomads, freelancers and those wishing to learn how to become location independent.
🙋🏻‍♀️ Amanda Abella is an award-winning Latina personal finance and business blogger, Amazon bestselling author, keynote speaker and business coach who has been blogging since 2010. Her work has been featured in Forbes, Inc, Fast Company and more. She's also worked with brands like TransUnion, Progressive Insurance, Capital One and more.
Listen to the Episode Below
What you'll learn about in today's episode:
Top lessons they each learned about travel saved money

One big challenge they each had with travel and money

The one trip they are each really proud of and why
Pregunta of the Week:
🤔 What was your favorite travel tip from this conversation? What is one travel tip you have used that you would like to share? 🤔
Use your free account in the Her Dinero Matters Hub to submit your answer and be one step closer to this month's freebie!
Have your free account? Click here to get taken directly to this week's question.
Don't have a free account, yet? No worries click here to get started (and submit your answer).
Resources From This Episode:
Dannielle's FirstGenMoney.co
Vianessa's The Hustle Juice website
Nominate a mujer (woman) for Reina of the Week here: www.jenhemphill.com/reinaoftheweek
☕️☕️☕️☕️☕️☕️☕️☕️☕️☕️☕️☕️☕️☕️☕️☕️☕️☕️☕️☕️☕️
I want to hear from you!  What was your favorite takeaway from this episode? Please come on over to our community and share with us there.
Abrazos + Much Love,
Jen
P.S. ¡GRACIAS por escuchar! THANKS for listening!
Enjoy The Show?
Be sure to never miss an episode:
Share with a friend by using the social media icons below.
Send us feedback via email to support@jenhemphill.com or click here to leave a voicemail.
The post, Travel Tips and Tricks from this Month's Reina Crew | HDM 180 appeared first on the Her Dinero Matters Podcast.