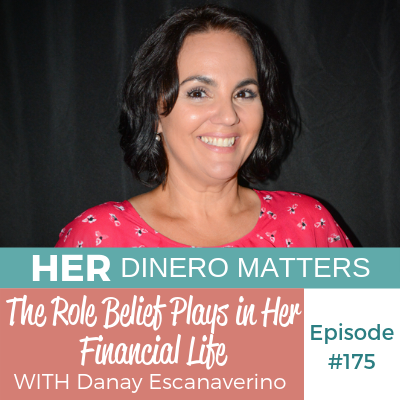 Belief is plays a bigger role in our life than we think. It can have a positive or negative impact in our financial life as well.
Think about it. Have you ever found yourself where the money you are making is flowing easily only to find later that you are wondering where it went?
Our guest Danay Escanaverino found herself in this position in one point of her life. She shares this story, how it changed and the significant role belief played in her financial life.
Listen to the Episode Below
What you'll learn about in today's episode:
She shares what immigrant thinking is and what she saw as a result

What happened as an adult when she didn't know how to balance her checkbook

The time in her life where she realized she wasn't keeping as much money as she could have been doing

The "B" word that she feels we need to have more of in our life
Pregunta of the Week:
What did Danay consider the worst money spent?
Use your free account in the Her Dinero Matters Hub to submit your answer and be one step closer to this month's freebie!
Have your free account? Click here to get taken directly to this week's question.
Don't have a free account, yet? No worries click here to get started (and submit your answer).
Resources From This Episode:
Connect with Danay on IG: @danay.e
Nominate a mujer (woman) for Reina of the Week here: www.jenhemphill.com/reinaoftheweek
☕️☕️☕️☕️☕️☕️☕️☕️☕️☕️☕️☕️☕️☕️☕️☕️☕️☕️☕️☕️☕️
I want to hear from you!  What was your favorite takeaway from this episode? Please come on over to our community and share with us there.
Abrazos + Much Love,
Jen
P.S. ¡GRACIAS por escuchar! THANKS for listening!
Enjoy The Show?
Be sure to never miss an episode:
Share with a friend by using the social media icons below.
Send us feedback via email to support@jenhemphill.com or click here to leave a voicemail.
The post, The Role Belief Plays in Her Financial Life with Danay Escanaverino | HDM 175 appeared first on the Her Dinero Matters Podcast.