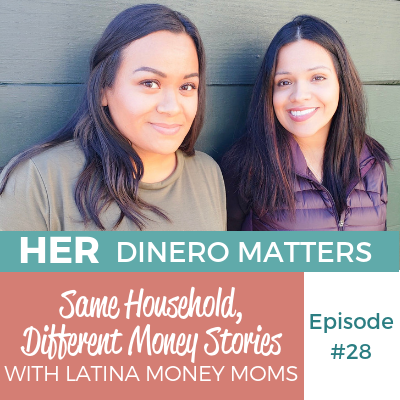 Have a sibling who grew up with you? Maybe you noticed that even in living in the same household you had different money stories. It's very possible.
This week we have 2 sisters Esperanza and Crystal who have very different money stories even when living in the same household.
Esperanza and Crystal are the faces behind the blog Latina Money Moms.
What you'll learn about in today's episode:
How these two sisters had the same upbringing but different money stories

How the pawn shops were their family's emergency funds and why these sisters vowed to do different

The story behind Crystal's car purchase at a 25% interest rate for the loan (and what she learned from this)

Esperanza's pivotal moment that helped her shift from earning $14k a year to now 6 figures
Resources From This Episode:
@LatinaMoneyMoms on Instagram
Latina Money Moms website
I want to hear from you!  What was your favorite takeaway from this episode? Please come on over to our community and share with us there.
You can join our community (and receive our weekly newsletters) by grabbing The Daily Dinero Ritual!
Abrazos + Much Love,
Jen
P.S. ¡GRACIAS por escuchar! THANKS for listening!
The post, Same Household, Different Money Stories With Latina Money Moms | HDM 28 appeared first on the Her Dinero Matters Podcast