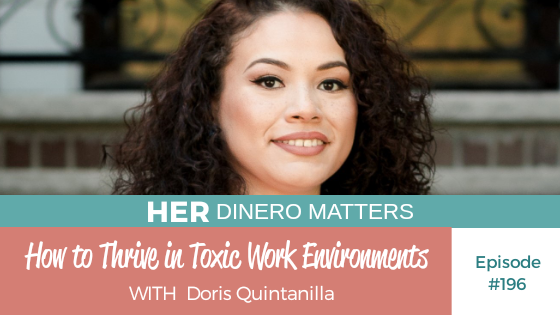 Have you ever found yourself in a toxic work environment? What happens if you are not in a position to leave at that very moment? What do you do?
In this episode, we speak with Doris Quintanilla from the Melanin Collective, who not only has a fascinating money story, but who at one time found herself in a toxic work environment after suffering a concussion. Doris shares with us how to manage your work environment AND thrive.
Listen to the Episode Below
What you'll learn about in today's episode:
The impact marching the streets, helping in fundraisers and an abundance of determination had in her personal life

Her own experience in her work environment after suffering a concussion

Her best tip to help you thrive in a toxic work environment
Resources From This Episode:
Connect with Doris: The Melanin Collective
Fill out the listener survey for a chance to win a $100 gift card! jenhemphill.com/podcastsurvey
Nominate a mujer (woman) for Reina of the Week here: www.jenhemphill.com/reinaoftheweek
Listen to this podcast on the Himalaya App and join the Cafecito Lounge! Use the code DINERO for a 30 day free trial.  
You can join our community (and receive our weekly newsletters) by grabbing The Daily Dinero Ritual!
☕️☕️☕️☕️☕️☕️☕️☕️☕️☕️☕️☕️☕️☕️☕️☕️☕️☕️☕️☕️☕️
I want to hear from you!  What was your favorite takeaway from this episode?
Abrazos + Much Love,
Jen
P.S. ¡GRACIAS por escuchar! THANKS for listening!
Enjoy The Show?
Be sure to never miss an episode- subscribe and follow.
Share with a friend by using the social media icons below.
Send us feedback via email to support@jenhemphill.com or click here to leave a voicemail.
The post, How to Thrive in Toxic Work Environments with Doris Quintanilla | HDM 196 appeared first on the Her Dinero Matters Podcast.