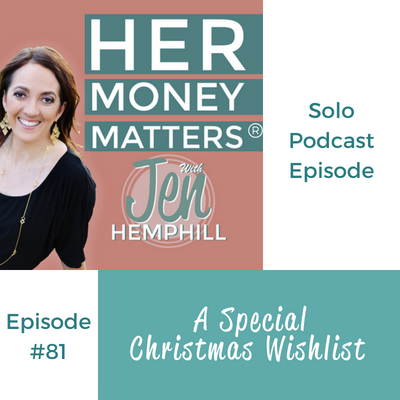 Merry Christmas!  Happy Hanukkah!  Happy Kwanza!
Tune in to this special mini-episode where I share my 6 items on my wish list for Santa.  It involves school lunches, Amazon, Kohls, Target, prepped meals and reward points.
Do you have a wish list?  You are an adult and of course are entitled to have one.  It's not just for kids.
Listen to the Episode Below
I'd love to hear from you, what would your special Christmas wish list include?  You can comment here in the comments section below or you can come on over in our community and share with us there.
Abrazos + Much Love,
Jen
P.S. THANK YOU for listening!
Enjoy The Show?
Be sure to never miss an episode:
Share with a friend by using the social media icons below.
Send us feedback via email to support@jenhemphill.com or click here to leave a voicemail.
**Please note I love to give shout outs to my listeners, so if you'd rather me not mention your email message or play your voicemail on the show be sure to clearly state that, thank you!**