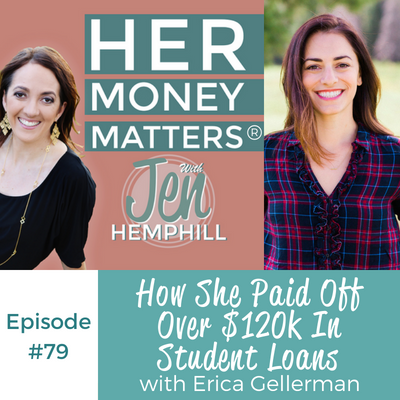 The end of the year brings excitement but at the same time it can bring some stress over debt.  Is this you?
If you are feeling like there is no light at the end of the tunnel, let Erica Gellerman's story inspire you!
Listen to the Episode Below
What You'll Learn In Today's Episode:
How she paid off over $120k in 3.5 years
How gratitude helped her in her journey
Why they check their net worth monthly
Resources From This Episode:
HMM Episode 76  (to get all the information you need on the HMM Inner Circle)
What was your favorite takeaway from the chat with Erica?
Abrazos + Much Love,
Jen
P.S. THANK YOU for listening!
Enjoy The Show?
Be sure to never miss an episode:
Share with a friend by using the social media icons below.
Send us feedback via email to support@jenhemphill.com or click here to leave a voicemail.
**Please note I love to give shout outs to my listeners, so if you'd rather me not mention your email message or play your voicemail on the show be sure to clearly state that, thank you!**