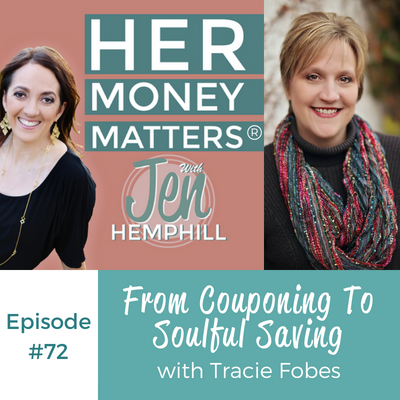 Couponing was where her financial journey started.  This helped Tracie Fobes save so she can meet her goals.
It evolved to helping others get the most out of coupons, but then she made a shift.
Tracie shares what that shift was and so much more in this episode.
Listen to the Episode Below
What You'll Learn In Today's Episode:
Her story of bankruptcy, getting back into debt and now being debt free
Why she went from doing all the things with the household money to getting her husband involved
The trick to using credit, getting those discounts and keeping in line with her cash envelopes all at the same time
Why she prioritizes life, family, and finances specifically in that order
Resources From This Episode:
Connect with Tracie over here:  www.pennypinchinmom.com
What was your takeaway from this episode?  Be sure to share with us over in our community.  Head on over by clicking here and say hello, will you?
Abrazos + Much Love,
Jen
P.S. THANK YOU for listening!
Enjoy The Show?
Be sure to never miss an episode:
Share with a friend by using the social media icons below.
Send us feedback via email to support@jenhemphill.com or click here to leave a voicemail.
**Please note I love to give shout outs to my listeners, so if you'd rather me not mention your email message or play your voicemail on the show be sure to clearly state that, thank you!**