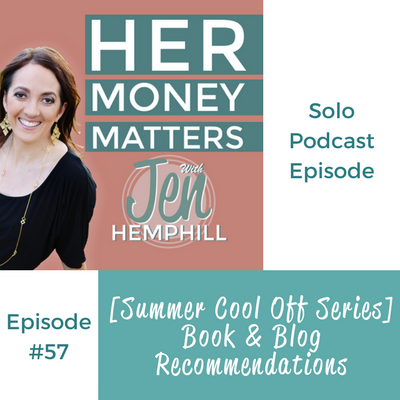 This episode kicks off the July Summer Cool Off Series for recommendations of money books, blogs and podcasts.
Plus, we'll be introducing you to some fabulous ladies who blog or podcast about money.
Why am I doing this?  Shouldn't I be promoting just my podcast, my content?
A big NO.
Here is the deal you may be searching for a specific tip or guidance in an area I have not yet covered in this podcast or on my blog.
I'm not here to hold you back, I'm here to propel you forward so you can achieve that financial success faster.
In this particular episode I share with you my money book and blog recommendations.  Of course I'll give you the reason why I love them.
Listen to the Episode Below
Resources From This Episode:
BLOGS:
◊◊◊◊◊◊◊◊◊◊◊◊◊◊◊◊◊◊◊◊◊◊◊◊◊◊◊◊◊◊◊◊◊◊◊◊◊◊◊◊◊◊◊◊◊◊◊◊◊◊◊◊◊◊◊◊
BOOKS:
**Please note the links below are affiliate links so I may receive a small commission if you purchase**
For tactical "how to's"
Automatic Millionaire by David Bach
Total Money Makeover by Dave Ramsey
9 Steps To Financial Freedom by Suze Orman
¦¦¦¦¦¦¦¦¦¦¦¦¦¦¦¦¦¦¦¦¦¦¦¦¦¦¦¦¦¦¦¦¦¦¦¦¦¦¦¦¦¦¦¦¦¦¦¦¦¦
For inspiration and self-reflection
Secrets of the Millionaire Mind by T. Harv Eker
All The Money In the World by Laura Vanderkam
What are your favorite money books and blogs?  Be sure to post them in the comments below!
Abrazos (**hugs**),
Jen
P.S. THANK YOU for listening!
Enjoy The Show?
Be sure to never miss an episode:
Share with a friend by using the social media icons below.
Send us feedback via email to support@jenhemphill.com or click here to leave a voicemail.
**Please note I love to give shout outs to my listeners, so if you'd rather me not mention your email message or play your voicemail on the show be sure to clearly state that, thank you!**