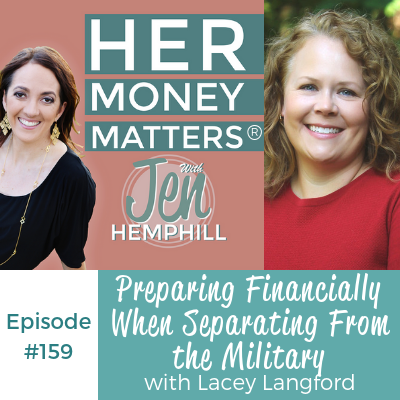 Serving in the military can be a challenging and it is not for the faint of heart. Some serve short-term others do it for the long-haul. No matter where you fall when you separate from the military there is a lot to consider financially.
We've got Military Money Expert, Lacey Langford to share with us what those considerations are.
Listen to the Episode Below
What You'll Learn In Today's Episode:
Three phases to consider in best preparing separating from the military

The military benefits that will disappear and leave you with less money in your pocket when you separate

The top three mistakes being made when separating from the military (plus the mistakes she made personally)
Lacey's Money Story
Lacey grew up in a military family, who had an open view on money. Her childhood was very structured and disciplined. Lacey commonly watched her father pay his bills at the dining room table. Her parents insisted she make a habit of spending less than she made, and to take care of her money, since she worked hard to earn it.
Lacey's Separation From the Military
In the air force, Lacey spent 4 years as an information manager. Her separation snuck up on her, and she realized 2 months out that she needed to make a decision. Despite not giving it much thought, Lacey decided to separate from the military to focus on her studies, since she had no children at the time. She was fortunate enough to have the Montgomery GI grant to help pay for a large portion of her schooling, but she was forced to make quick financial decisions. She payed for the rest of her expenses by working at Chili's. Despite her luck, Lacey wished she had put more time into her separation.
How to Prepare for Separating from the Military
Pre-preparation: What do you want to do when you get out? Pre-preparation is the biggest part of your separation. It is important to note that while you might qualify for certain jobs in the military, those same jobs might require a degree or license in the civilian world. Preparing for these things in advanced could mean a smooth transition straight to your desired job out of the military. It is important to save more money, since separating from the military is such a large transition, and everything will change. Lacey suggests starting your savings no less than 6 months before your separation, to ensure you have a buffer for your transition out.  
Separation: Once separated from the military, it is crucial to guesstimate what your new expenses will be. When retiring from the military, some of the health benefits received whilst in the military continue. This does not happen when you separate. Any new medical expenses will need to be funded by you. Your taxes will also increase, since much of the military salary comes without taxation. During your separation, be sure to acknowledge the extra costs.
Post-Preparation: Adjust your budgets, and stay on top of them. Look closely at your money. Be conservative for the first 3-6 months (at least). This way, when unexpected costs arrive, you can be prepared for them.  
Benefits that Cease When You Separate from the Military
Tax cuts

BAH

BAS

Healthcare (research how expensive it will be)

PX / Conversary discounts on food and clothing

Free christmas trees, school supplies, free tax services (the little things add up).
Things for the Family to Consider
Separating from the military is also a family affair. Military spouses are also used to the discounts. The military usually organizes events, which your family might miss. Things for the kids will be different, since the communities inside and outside the military are quite different. Financially, the discounts you might have received for your kids' sports or activities will also cease. It is important to make these considerations.
Top Mistakes when Separating from the Military (What NOT to do)
Not preparing in advanced;
Not taking advantage of all the benefits given to help with transition
Continuing to spend money that same way without considering your budget.
Resources From This Episode:
I want to hear from you!  What was your favorite takeaway from this episode? Please come on over to our community and share with us there.
Abrazos + Much Love,
Jen
P.S. THANK YOU for listening!
Enjoy The Show?
Be sure to never miss an episode:
Share with a friend by using the social media icons below.
Send us feedback via email to support@jenhemphill.com or click here to leave a voicemail.
**Please note I love to give shout-outs to my listeners, so if you'd rather me not mention your email message or play your voicemail on the show be sure to clearly state that, thank you!**
The post, HMM 159: Preparing Financially When Separating From the Military With Lacey Langford appeared first on the Her Money Matters Podcast.