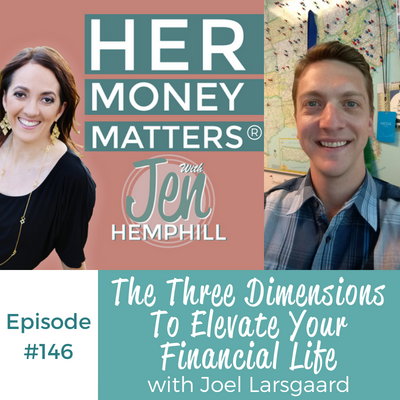 As a teen this week's guest Joel Larsgaard witnessed multiple tensions that arouse with his parents. This included what preceded bankruptcy, filing bankruptcy and post-bankruptcy. We learn more about his money story and what changed for him in this episode.
Listen to the Episode Below
What You'll Learn In Today's Episode:
The lessons he learned as a teen from his parents filing bankruptcy
The three dimensions he implemented to be better with money then his parents were
His best savings tips for cell phone plans, travel and eating out!
Joel's Money Story
Growing up, Joel's parents struggled with money. In his early teens, they filled for bankruptcy. This caused money to be a great source of tension within his household. His mother wanted to stay at home with the kids, but because of money issues she was unable to do so. Due to his parents' tough relationship with money, Joel was determined to ensure money was not an issue for his family, and his determination led him to helping others with their own finances.
During the financially difficult years of his teens, Joel understood the influence money had over a house hold; it could make you happy or unhappy, feel secure or insecure. He learnt about money mainly from observation, since it became difficult for his parents to discuss money with Joel and his siblings.
Joel's Tips on Saving Money
Joel's biggest tip for saving money starting off with a frugal, simpler lifestyle, with things like smaller spaces and older cars. This way you can build up a savings that will work for you. In Joel's case, his family of four lives in a two bedroom, one bath house. Joel also got into real estate investing in order to allow his wife to stay home with the kids for a couple years.
Be proactive: make a list of what you want, and figure out how you can make your money work for you so you can accomplish those goals. Joel recommends following these steps to do so:
List your life priorities; you can't afford everything.

Brainstorm the possibility of what your life could look like if you accomplish these priorities.

Act accordingly, cut out the things that are not important.
Cell Phone Plans
Working for Clark Howard as a producer helped Joel think about money in a positive way. He also learnt that cell phones were the quickest way to save money.
If you are a single person using one cell phone, use companies like Republic Wireless, who has a $15 unlimited talk and text plan, with an extra $5 per 1G of data. Staying on wifi as much as possible will reduce these costs. Exfinitiy, on Verizon's network, is $12 for unlimited talk and text including 1G of data. Most of these second tier companies work on the backbones of the main networks, so still have great service.
For a great deal on family plans, Joel suggests using companies like Metro PCS, or Sprint for $100 a month.
Travel
In the US, there are many cheaper airlines, such as Southwest, JetBlue, and Spirit. Joel also suggests driving for 8 hours, which can result in completely different typography and cities. Be flexible with dates and destination, and let the deal determine where you go. Joel also suggests using Scott's Cheap Flights email list to ensure you get all the best deals on international flights.
Eating out
Joel and his family like to eat out once a week. In order to save, they commonly go out on weekdays, when most of the specials occur. Let the day determine when you go out to eat. Sign up for emails from your favourite restaurants. They will send out specials, and deals on gift cards. Consider sharing an entree, don't get dessert, and have one drink.
Podcast: Pour, Not Poor
Joel's podcast is hosted with his best friend, Matt. They both love helping and teaching people about money in their own ways. Joel's podcast is a combination of lifestyle, money and beer. Each week they have a beer, help people figure out their 'why' of money, and show people how to implement money saving tactics to achieve their life goals.
Resources From This Episode:
Joel's podcast Pour Not Poor
I want to hear from you!  What was your favorite takeaway from this episode? Please come on over to our community and share with us there.
You can join our community (and receive our weekly newsletters) by grabbing The Daily Dinero Ritual!
Abrazos + Much Love,
Jen
P.S. THANK YOU for listening!
Enjoy The Show?
Be sure to never miss an episode:
Share with a friend by using the social media icons below.
Send us feedback via email to support@jenhemphill.com or click here to leave a voicemail.
**Please note I love to give shout-outs to my listeners, so if you'd rather me not mention your email message or play your voicemail on the show be sure to clearly state that, thank you!**
Be sure to continue join us in more money conversations in our FREE community over here: http://www.jenhemphill.com/community
Enjoy this episode and want more?  Be sure to subscribe and leave us a review on iTunes:  https://itunes.apple.com/us/podcast/her-money-matters-money-talk/id1006403754
By you doing that will help us reach more women like you. It's easy, here is how:  https://jenhemphill.com/how-to-subscribe-and-leave-a-review-on-itunes/
The post, HMM 146: The Three Dimensions To Elevate Your Financial Life With Joel Laarsgard appeared first on the Her Money Matters Podcast.