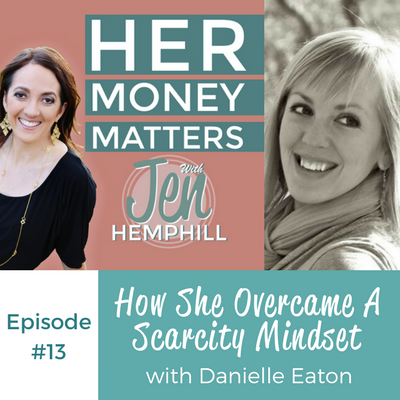 When you think of a scarcity mindset what do you think of?
If you answered not having enough money, it's hard to make money, or something similar you are completely right! A scarcity mindset is one you don't want to have. In this latest episode Danielle Eaton shares about her upbringing and the scarcity mindset it created. She is such a sweet person and I just know you will truly enjoy getting to know her!
Listen to the Episode Below
What You'll Learn In Today's Episode:
Who influenced her most in the area of money which may surprise you
What she considers the best money spent and why
Her rationale in not liking carrying cash
She reveals if with her husband they use joint or separate accounts, how that has worked form them and so much more!
Resources From This Episode:
How to learn more about Danielle: www.danielleeaton.com
Listen to Naturally Empowered Moms Podcast on iTunes
Link to schedule your Complimentary Money Exploration Session: www.jenhemphill.com/session
Looking forward to chatting with you on the phone, be sure to schedule it soon!
Abrazos (**hugs**),
Jen
P.S. THANK YOU for listening!
Enjoy The Show?
Be sure to never miss an episode:
Share with a friend by using the social media icons below.
Send us feedback via email to support@jenhemphill.com or click here to leave a voicemail.
**Please note I love to give shout outs to my listeners, so if you'd rather me not mention your email message or play your voicemail on the show be sure to clearly state that, thank you!**