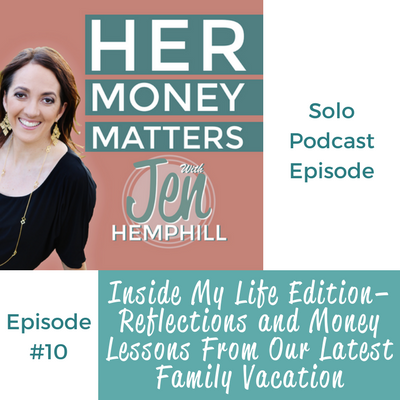 If you have not yet made it to Spain you definitely need to put it on your bucket list. It is absolutely beautiful and the food is muy delicioso (very delicious in Spanish). My husband, boys and I had a wonderful time and have yet filled our memory jars once again with some good 'ole quality family time.
This is the first episode of the "Inside My Life Edition" where I give you a little inside scoop of my life. Every once in a while I will give you a sneak peek into my life and share the good times along the challenges that come up. In this week's episode I get a up close and personal about my reflections & the lessons I learned (or ahem should I say re-learned) on our latest family vacation. Plus, I share the details of the different places we went to!
Listen to the Episode Below
What You'll Learn In Today's Episode:
How my son's comment on having 6 years left until he graduates high school impacted me and what I am doing about it
How financial freedom isn't enough, and one thing you need to make sure you do (in this episode I refer to financial freedom as being free from debt)
Why having a buffer is important when planning vacations and so much more…
Resources From This Episode:
Vacation Rentals by Owner (VRBO.com)–my preferred method to look for rentals homes **during the episode I referred to it as VRB and left out the O, sorry about that!**
Trip Advisor (tripadvisor.com)–my preferred method for reviews on spots to see and places to stay
In case you want to follow me on Instagram @jenhemphill :-).
Here are a few photos from the trip (if you head over to Instagram there are more!):
I'd love to hear from you, what is the most memorable vacation you have taken? Be sure to let us know in the comments below!
Abrazos (**hugs**),
Jen
P.S. THANK YOU for listening!
Enjoy The Show?
Be sure to never miss an episode:
Share with a friend by using the social media icons below.
Send us feedback via email to support@jenhemphill.com or click here to leave a voicemail.
**Please note I love to give shout outs to my listeners, so if you'd rather me not mention your email message or play your voicemail on the show be sure to clearly state that, thank you!**