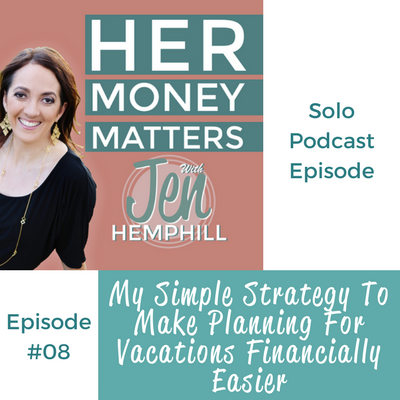 Who doesn't love to vacation? Let's face it everyone loves to take trips, but the fact is it all takes money and planning ahead of time.
Sometimes we think we don't have the money for it, but do we actually take the time to actually see if that is true? In this episode I share with you the exact strategy I use and teach to help doing the financial part of planning your vacations easier and not so overwhelming.
Listen to the Episode Below
What You'll Learn In Today's Episode:
The importance of getting clear on the type of vacations you want and like to take
Making a plan and doing the research to get some numbers down (the dollar kind)
How to use those numbers in your monthly financial plan
The importance of being flexible
A little known reason why automation should be your friend
Resources From This Episode:
Get more information on the ULTIMATE Money Kit by CLICKING HERE.
Get information on the money budgeting template my clients + customers rave about by CLICKING HERE
Episode 006 which was mentioned in this particular episode, you can LISTEN TO IT HERE
I'd love to hear from you! Let me know in the comments the types of vacations you like to take :-).
Abrazos (**hugs**),
Jen
P.S. THANK YOU for listening!
Enjoy The Show?
Be sure to never miss an episode:
Share with a friend by using the social media icons below.
Send us feedback via email to support@jenhemphill.com or click here to leave a voicemail.
**Please note I love to give shout outs to my listeners, so if you'd rather me not mention your email message or play your voicemail on the show be sure to clearly state that, thank you!**