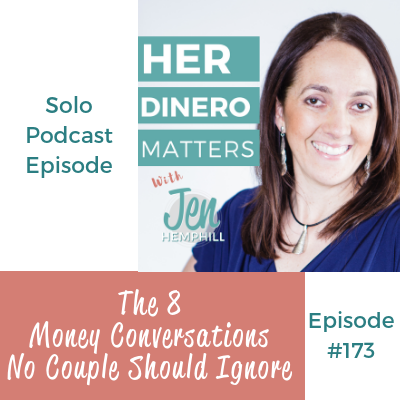 Money conversations with your significant other is not always an easy task.
The reality is that these types of conversations are important in any relationship. It can make or challenge your relationship.
In this episode, I share the 8 money conversations no couple should ignore.
I go into detail about each, why they are important and some things to consider for each of the conversations.
It's not an exclusive list, but it is a good start.
Listen to the Episode Below
Resources From This Episode:
Nominate a mujer (woman) for Reina of the Week here: www.jenhemphill.com/reinaoftheweek
Log in to your free account in the Her Dinero Matters Hub
If you don't have an account you can get yours by grabbing your free copy of My Daily Money Ritual.
☕️☕️☕️☕️☕️☕️☕️☕️☕️☕️☕️☕️☕️☕️☕️☕️☕️☕️☕️☕️☕️
I can't wait to hear what you think of the new changes! Also, what was your favorite takeaway from this episode? Please come on over to our community and share with us there.
Abrazos + Much Love,
Jen
P.S. ¡GRACIAS por escuchar! THANKS for listening!
The post, The 8 Money Conversations No Couple Should Ignore | HDM 173 appeared first on the Her Dinero Matters Podcast